If your kitchen is feeling outdated and you're looking to upgrade to a more modern, sophisticated style, the latest appliances can transform the space. Advances in technology and design have led to truly advanced, aesthetically pleasing options perfect for contemporary kitchens. Rather than settle for lackluster appliances that blend into the background, you can opt for statement-making pieces that blend form and function.
In this guide, we'll explore the 5 must-have categories of appliances to create a contemporary kitchen with a stylish, cutting-edge look. From clever refrigerators to nearly invisible microwaves, these smart gadgets seamlessly integrate the features you need with the sleek styling you want. With the right appliances, you can craft a cooking space that looks as incredible as it performs. Read on to uncover the key appliances that will give your kitchen a modern, high-tech makeover.
Sleek Stainless Steel Refrigerators
When it comes to finding the trendiest appliances for a modern kitchen, you can't go past sleek stainless steel fridges. These beauties bring a touch of elegance and style to any contemporary kitchen.
Streamlined Profiles
Look for refrigerators with streamlined exteriors and hidden hinges for a seamless, integrated look. French door and side-by-side configurations offer narrow profiles that fit flush with cabinetry.
Interior Organization
Interior organization is also key – choose models with:
Adjustable spill-proof glass shelving
Humidity controlled crisper drawers
Built-in water dispensers
LED interior lighting
Finishes
When it comes to finishes, stainless steel is the most popular modern option. But you can also find fridges in glossy black, matte white, or even bold colors to make a statement. Handle-free models have a very minimalist, uncluttered look. Or opt for tubular bar handles in chrome, black nickel, or matte for subtle styling.
Smart Features
Smart refrigerators take things to the next level with integrated touch screens, cameras for peeking inside, and WiFi connectivity. With a fridge cam and app, you can check contents anytime from your phone.
Overall, stainless steel refrigerators with clean lines and a minimalist edge are the perfect way to anchor your contemporary kitchen.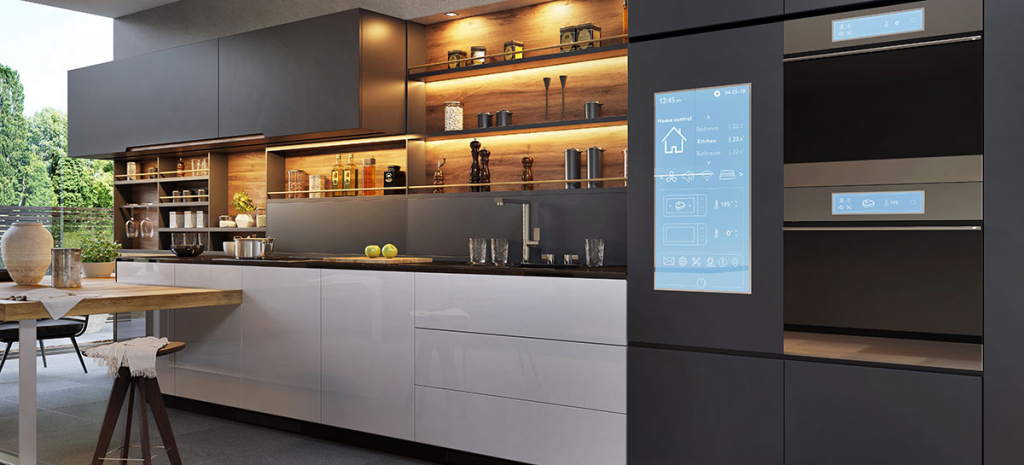 High-Tech Induction Cooktops
High-tech induction cooktops are a fantastic way to cook in the modern kitchen. These cooktops use electromagnetic fields to heat the cookware directly, which means faster heating and precise temperature control. No more waiting for the burner to warm up or worrying about uneven cooking.
Rapid Heating
With induction cooktops, you'll have more time to focus on preparing delicious meals. The cooktop surface heats pans and pots instantly, reducing warm up time.
Precise Control
Induction allows you to fine tune temperatures and maintain even heating. This prevents burning and makes cooking tasks like simmering or candy making easier.
Easy Cleaning
Plus, they're easy to clean since the surface doesn't get hot, stopping spills from burning onto the cooktop. Wipe away splatters as soon as they happen.
Sleek Styling
Induction cooktops feature smooth glass surfaces that complement modern kitchens. Go for frameless models for the most seamless look.
With faster heating, precise control, and fuss-free cleaning, induction cooktops are the perfect blend of high-tech performance and contemporary styling.
Smart Wi-Fi Enabled Ovens
Smart Wi-Fi enabled ovens are a game-changer for anyone who enjoys spending time in the kitchen. With the ability to connect to your Wi-Fi, you can control your oven from anywhere using your phone or tablet.
Remote Control
Just imagine preheating your oven on your way home from work or adjusting the temperature without getting up from your couch.
Intuitive Features
These ovens also have cool features like:
Voice control for hands-free operation
Recipe integration to automatically set cooking times and temperatures
Food probes that monitor internal temperatures
Notifications & Alerts
And with notifications and alerts, you'll never have to worry about burning your food again. The ovens send alerts to your device to prevent over or undercooking.
Hassle-Free Cooking
Smart Wi-Fi ovens bring a whole new level of convenience to your kitchen. They make cooking completely hassle-free!
Stylish Double Door Dishwashers
Double door dishwashers are the epitome of form and function in today's modern kitchens. With their elegant split door design and latest features, they make dishwashing almost enjoyable.
Spacious Double-Door Access
The split double doors eliminate the need to bend down to load and unload the bottom rack. Both doors can open fully, providing complete access to the interior without straining your back. This makes fitting in large, awkward items much easier.
Flexible Loading Options
The adjustable racks and modular compartments cater to dishes of all shapes and sizes. The upper rack can be raised or lowered to accommodate tall glassware. Stemware holders keep delicate items secure. The lower rack has folding tines and removable cutlery baskets to customize the space.
Advanced Sensor Technology
Smart soil sensors scan dishes and automatically adjust the wash cycle based on how dirty they are. This optimizes cleaning performance while saving water and electricity. Cycles like turbo wash can power through stuck-on food in under an hour.
Quiet Performance
Multiple sound-dampening technologies allow double door dishwashers to operate at a very low decibel rating. Insulated walls prevent vibration, while the grinder and drain pump are strategically located away from the door. This allows quiet washing, even at night or during conversations.
With style, flexibility, efficiency, and near-silent operation, double door dishwashers are a dream appliance for contemporary kitchens.
Minimalist Built-In Microwaves
Built-in microwaves are the perfect addition for kitchens aiming for a clean, minimalist aesthetic. With their discreet built-in design, they provide convenient cooking while maintaining a streamlined, unified look.
Seamless Integration
Built-in microwaves install flush within cabinetry so only their sleek control panel is visible. This allows them to blend seamlessly into the overall kitchen cabinetry for a polished, contemporary feel.
Custom Sizing
These microwaves come in a range of width and height configurations to fit perfectly into your specific cabinet space. You can find compact models for small kitchens or larger capacity microwaves for more cooking room.
Full-Featured Functionality
Despite their discreet design, built-in microwaves still offer the functionality you need. Look for models with:
Multiple power levels for reheating to defrosting
Express cooking settings for one-touch convenience
LED cavity lighting to see inside
Mute settings for quiet operation
Coordination with Other Appliances
Choose a built-in microwave that matches the finish and styling of your other kitchen appliances. This creates a cohesive look. Black, white, and stainless steel are popular minimalist color choices.
With their hidden design and versatile cooking modes, built-in microwaves allow you to achieve a minimalist kitchen aesthetic without sacrificing convenience.
Conclusion
With this roundup of the top 5 appliances for a contemporary kitchen makeover, you now have a guide to creating a stylish, functional cooking space. The right combination of advanced refrigeration, precise cooktops, intuitive ovens, flexible dishwashers, and discreet microwaves will allow you to fashion your ideal up-to-date kitchen.
Focus on finding energy efficient models with smart technology and hidden designs to maximize both sustainability and aesthetics. Use this list when selecting appliances to ensure your new kitchen is on-trend and future-proof. With sleek, statement-making appliances as the centerpiece, you can easily transform your outdated space into a contemporary showpiece. Use this as your playbook when embarking on a modern kitchen remodel.